Advena

By Georgia Tucker

"A tropical paradise in the green zone"
Advena 1. Stranger, alien, tourist.
Welcome to the Jungle
Advena (2021) is a virtual reality (VR) resort that responds to our desire for escapism during the pandemic – discovering an idyllic landscape of tropical fauna, colourful architecture, opalescent orbs and warm beaches. The work explores the ecological and social impact of tourism and its corresponding resorts, simultaneously creating a notion of 'Island life within the city' (Ballymore, 2014). Advena also features an augmented reality (AR) experience that can be accessed from anywhere in the world.
The main audience for Advena will be those who are looking for new experiences, especially worth sharing on social media. The work is Instagrammable, and plays off this; 45% of travellers aged between 18-33, prioritised how Instagram worthy a destination will be over other essential amenities (Schofields; Arnold, 2018). They are the largest consumer group, travelling the most, using social media the most and thus the ones most likely to be influenced by what they see or experience. By sharing the experience online, they will be opening up the audience reach further and also influence others to Enter Advena.
As a dreamscape, coined by Gestalten to identify the CGI landscapes popping up over social media more frequently during the pandemic; Advena is 'full of exquisite structures and extraordinary natural surroundings that can't, and won't, ever be built' (Stuhler, 2020). The full experience of Advena is designed to be an overstimulating sensory experience, highlighting the excessive nature of current fast lifestyles and our craving for more stimulation.
Throughout the experience you are encouraged to remain on the pathway. People don't often question why they are following pathways, and routes that are laid out for them – nor do we question our susceptibility to influence.

Partners:
Hoare Lea, Arebyte Gallery, Offsite Projects, NEON, Bamsound Creative, REI plc and Kevin Luckhurst. A special thanks to: Graham Cowell, International Curators Forum, Paul Bassi, Chris Lane, Rebecca Edwards, Scott Marshall, Paulie Roche, Leah Woolford, Louise Neville and Jade Shapiro.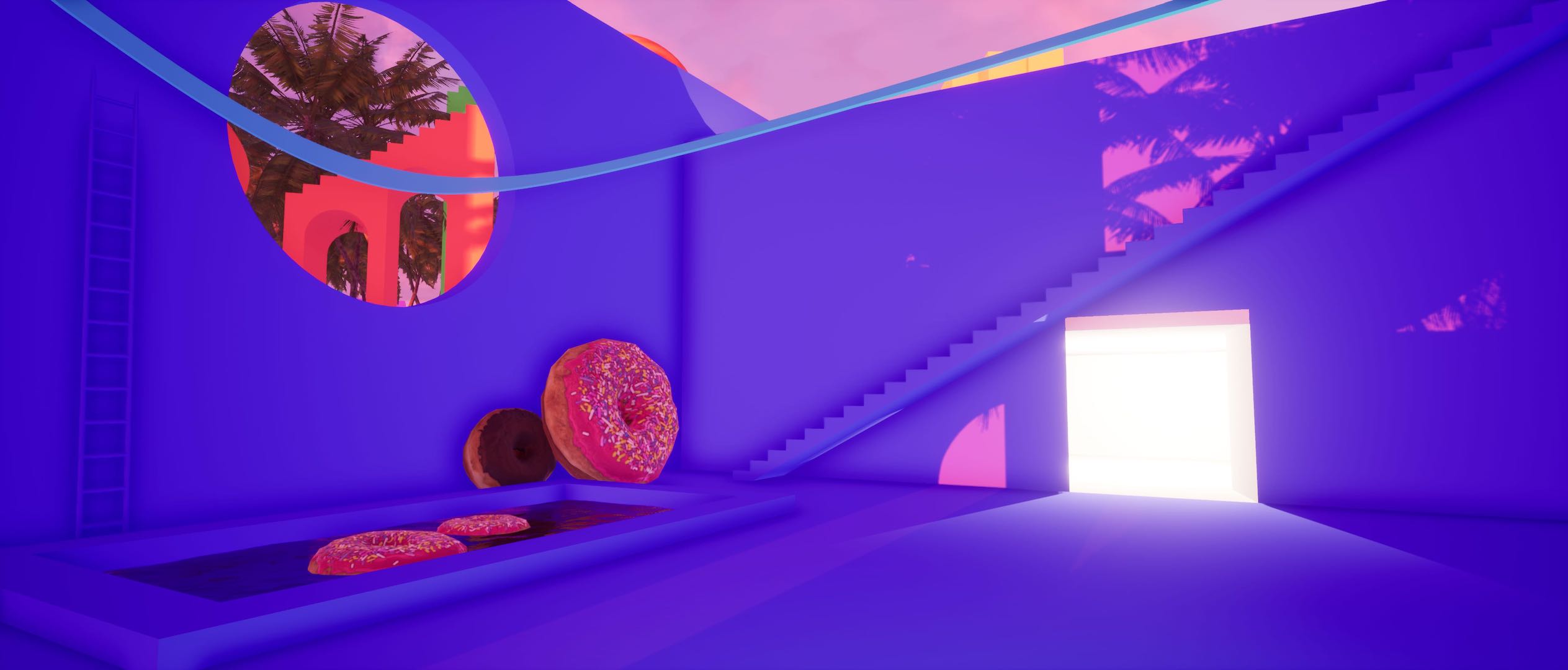 Georgia Tucker is an artist who uses immersive technology to create meaningful conversations and experiences. Using large-scale art installations and interventions in public spaces, she creates memorable and interactive works which focus around various challenges of climate change.
Georgia is currently studying her MA at Birmingham School of Art and has screened and exhibited her work internationally, working collaboratively and learning from industry experts. Her work explores the complexity of materiality, environments and ecologies represented in virtual experiences. Transforming the sense that the viewer's world is both alien and familiar. She is pushed by the layering of virtual and physical spaces, relying on a collaboration with the viewer as
they turn from a passive audience member to active participant.
During the pandemic while travel became redundant and pollution decreased, Georgia spent her time building the tropical environment of Advena. The work became an escape from lockdown and an exploration into the meaning of 'sustainable resort', looking at our desires. The initial proposal for Advena was supported by Arebyte Gallery on London City Island.
Radley Cook (Penzance), Sarah Danaher (Leicester/Leeds), and Georgia Tucker (Birmingham) were 3 of 4 artists selected to be part of hotel generation 2020. For AOS they present work made during or after the development stage of the programme. The works are released in conjunction with the final selected artist, Kate Frances Lingard's exhibition at arebyte Gallery.
The judging for 2020 was comprised of Zach Blas (artist and writer based in London), Helen Starr (curator-in-residence at FACT, Liverpool), Hannah Redler Hawes (Associate Art Curator / Director, Data as Culture at the ODI, London), Erin Weible (Engagement Director at Microsoft Art Collection) and Klio Krajewska (Head of New Media Arts Development at Watermans Art Centre).