My Mind, Your Weapon: panel discussion with Vesselin Popov, Lauri Love, Kadine James, Lucy Wheeler and Rod Dickenson
My Mind, Your Weapon: panel discussion
What impact does current applications of behavioural targeting have on democracy, diversity and autonomy, and how can we promote and facilitate best practice around these issues?
The panel discussion focused on fostering curiosity, facilitating discussion and provoking critical thinking around often inaccessible issues surrounding the processes and applications of big data – particularly in relation to data bias, the Internet of Things and Smart Cities.
Panelists:
Vesselin Popov is the Executive Director of the University of Cambridge Psychometrics Centre, a multidisciplinary research institute specialising in online behaviour and psychological assessment. He also coordinates Apply Magic Sauce which is a non-profit academic research project.
Lauri Love is an English/Finnish computer scientist who has a long history of involvement in political activism.
Rod Dickenson is a Senior Lecturer in Digital Media at UWE and an artist specialising in re-creations of historical incidents or events.
Kadine James is the CEO and Founder of The Immersive Kind Collective, a platform for artists and creatives who use technology in their practice. Kadine is also creative lead at Hobs 3D, who specialise in innovative 3D services including modelmaking, 3Dprinting & 3D Visualisations.
Lucy Wheeler is a multidisciplinary tech artist, and is the Co-Founder of The Immersive Kind Collective.
This event was part of the exhibition Raised by Google by Sarah Selby, at arebyte Gallery until 11 Jan 2020. More info here.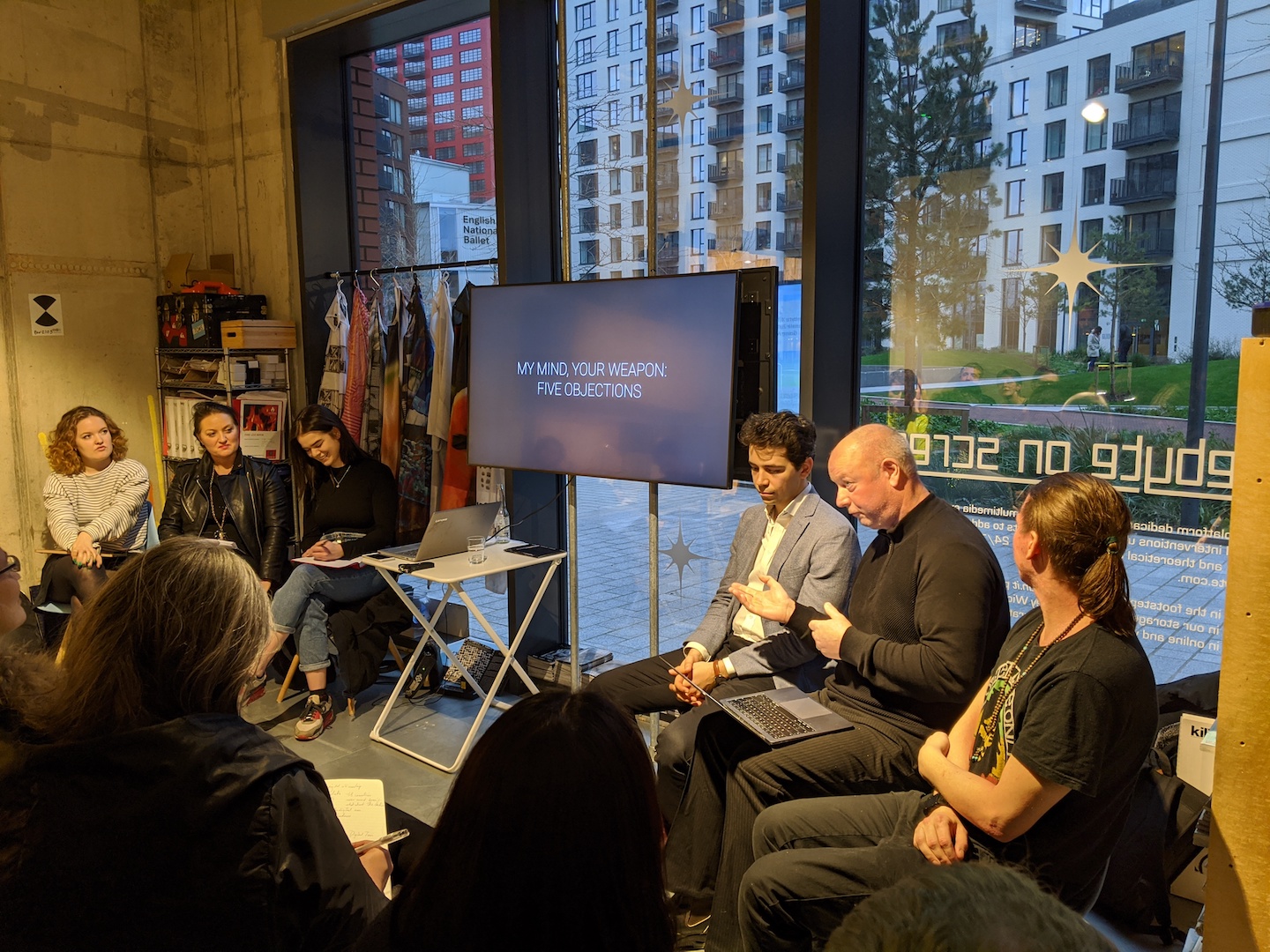 My Mind, Your Weapon: panel discussion
…by arebyte showcases material created by the arebyte team and educational partners, relating to our physical shows in the gallery, as well as previous screen based works by alumni artists. For this strand of AOS arebyte will curate and create content in relation with the physical shows taking place in the gallery space, as well as feature arebyte's alumni work commissioned by the gallery since 2013. This visual material will allow arebyte to expand on the theme addressed by its physical exhibitions and will be a place for art audiences to further explore, interact and engage with the arebyte programme.