Open Screen 2022: MH Sarkis - PΛNΛCΞΛ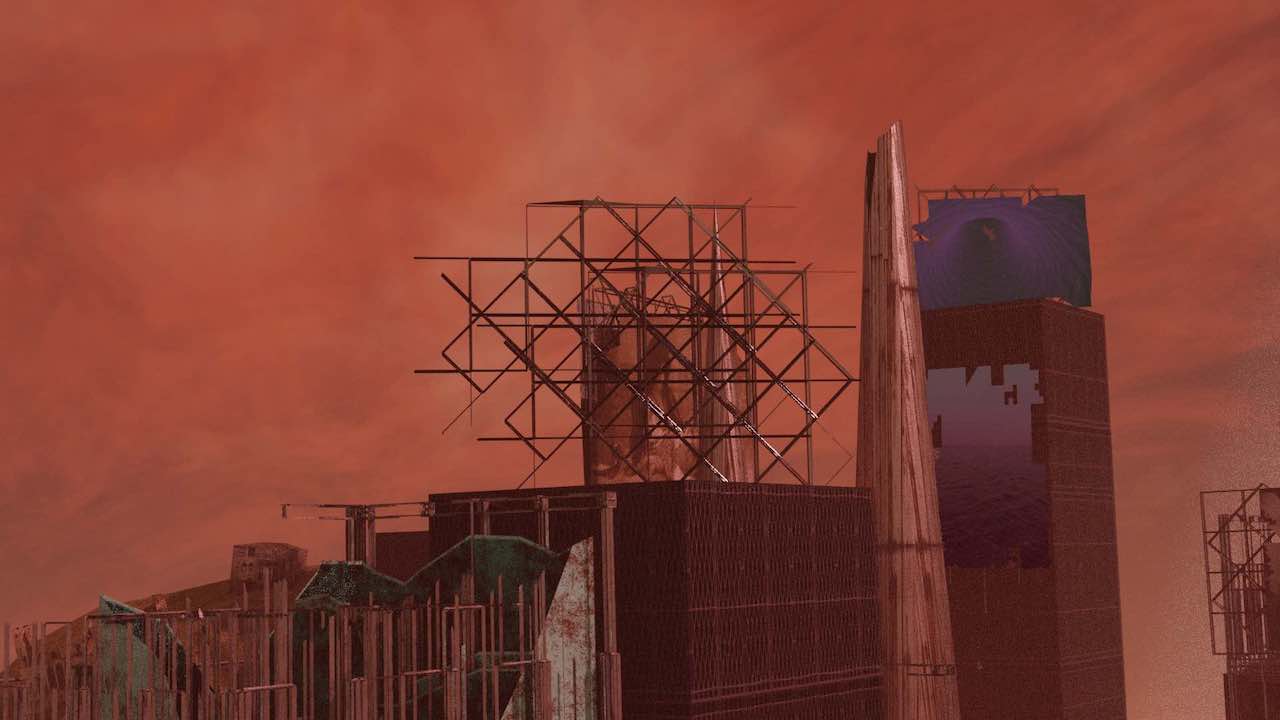 Google Chrome is required to participate in the interactive version of the work, which uses eye-tracking software as part of the experience.
We recommend the use of a webcam to most effectively interact with the eye-tracking software.
A pop-up will be presented once you click "proceed" on the film. It will ask for you to "allow" your camera, you should click "allow".
Alternatively, a walkthrough video version of the work is available by clicking the button below.
PΛNΛCΞΛ is an experimental short film that blends CGI, eye tracking and real imagery into a post-apocalyptic vision of a speculative Levantine future. Thematically, the film recalls our past while gesturing not only towards the looming environmental crises precipitated by such conflicts but also towards the visceral, collective turmoil of the here and now.
PΛNΛCΞΛ posits that there is no immediate relief or finite emergence from recent turbulent times – whilst the film is set in a speculative post-apocalyptic future, history echoes in the film's cityscape (observed in billboards). Inasmuch as we may wish to alter what plagues us, this is not always easily achievable – such a notion is reflected in PΛNΛCΞΛ's A.I. eye-tracking software that attempts to change the course of the film's narrative based on which billboards draw one's attention (the viewer is rewarded with immediate feedback by seeing more footage based on their pupils' resting points).  Although this technology may seem to enable a viewer's focal points to determine the film's progression, the trajectory of the film never actually changes – the only way out is always through. Through the entirety of the film, through the winding tunnel end scene.
The film abandons the comforts of traditional linear narrative structure and dialogue to reach and connect with viewers who are not from the region or who have no prior knowledge of unrest, ultimately providing them the opportunity to tap into the feelings of catharsis that this project aims to evoke. Though the film is set in the future, it juxtaposes that vision with the reality of a historical past, incorporating a dystopian cityscape lined with historically-loaded billboards and "physiographies" that seamlessly integrate geographical features within metaphorical spaces.
MH Sarkis (b. 1990) is a London-based mixed new media artist who is a 2021 graduate of the Goldsmiths Masters of Fine Art Programme and recipient of the 2021 Almacantar prize. Sarkis's work has appeared in more than a dozen solo and group exhibitions across Europe, Africa, and the Middle East. Her art has been featured in the Saatchi Art Contemporary Surrealists collection, and appeared in the 2018 Shape Open showcase.
Through a blend of traditional mediums, CGI, film, responsive robotics, and machine learning, MH Sarkis's work seeks to explore female experience, relational dynamics, and applications of soft power within frameworks of potential posthumanisms and techno-protopias. Her latest projects, such as PΛNΛCΞΛ, exemplify these concerns while highlighting the importance of interactivity to her creative process – the works are not only physically shaped and re-arranged in real time based on audience responses, these interactions and their data serve to inform Sarkis's future creations, as well, creating a sort of "genetic memory" that expresses itself in each new piece.