Shinji Toya - Can you tell me about yourself for the sake of art?
Psychological Tension of Data Collection
Shinji Toya
2018-2019
Animation made with the result of a participatory data collection.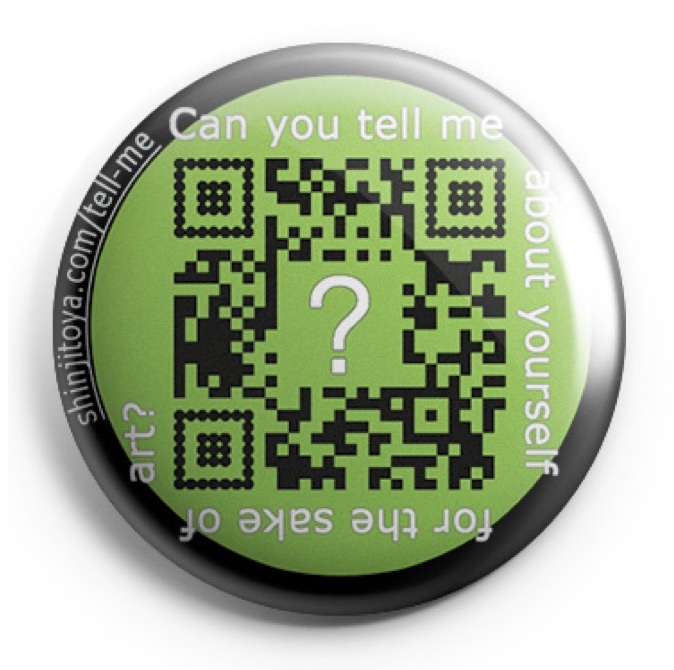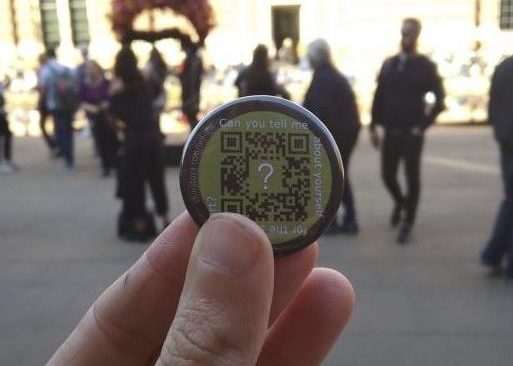 A badge and screensaver made for the project – with a QR code for the online form for data collection.
Can you tell me about yourself for the sake of art?
Shinji Toya
Can You Tell Me About Yourself For the Sake of Art? is a participatory digital art project commissioned for an exhibition Please, Express Yourself curated by Filippo Lorenzin. This project was displayed at The Victoria and Albert Museum in London with the help of the front of house teams, and online at Green Cube Gallery.

For the exhibition, Toya explored data collecting policy at the time of the General Data Protection Regulation (GDPR) with a work blending IRL engagement with online procedures. Members of Staff had screensavers on their digital devices and wore pin badges. These items had a QR code redirecting visitors who scanned them to an online form asking a series of questions concerning their identities and thoughts, and the visitors were informed the original personal data would be anonymised by following GDPR rules. The answers collected by the artist have been used to produce a visual poetry artwork that shows whether the visitors were or not willing to give up the information for each field.

This data poetry made visible the psychological tension concerning participants' reluctance (or non-reluctance) for disclosing the data. The data collection was done eight months after the Cambridge Analytica scandal (of March 2018), indirectly responding to what had become public knowledge widely at the time. The scandal and its related investigations in the past revealed that the vast amount of user data (e.g. collected on social media and the like) when combined with psychographic profiling, can be used to predict and manipulate users' behaviour for the financial and political gain of those who in control of the data. As a logic possibly contrary to this retention, GDPR could enable us to ask the companies to erase our personal data that is rendered unnecessary (Right to Erasure).

In some way, data collection may operate with a kind of invisible, complex psychological forces associated with trust and distrust, as well as the relevant technological and legal structures.
(Text written with quotations by Filippo Lorenzin)
Shinji Toya is a digital artist from Japan, based in London. His practice is process-driven and uses programming, the Internet, participation, video and image manipulation. It deals with the poetic aspects emerging in the tension between what the systems of knowledge and computation aim to capture and what they fail to capture, raising questions concerning the structure and possible politics of such systems. The recent projects by the artist deal with the data economy, digital memory, and limits of Artificial Intelligence.
Toya is currently a Visiting Practitioner at Central Saint Martins College of Art and Design, and have previously presented projects at Tate Britain, Tate Modern, SPACE, Ars Electronica, arebyte Gallery, furtherfield, Royal Academy of Arts (UK), The Wrong New Digital Art Biennale, Interfaces Monthly in association with Barbican, and Beijing New Media Arts Triennial.
Website: shinjitoya.com
Instagram: @shinjitoya
Twitter: @SHINJI_Toya
Being invited by the artist, the next artist showing is Simen Musaeus.
…by artists is an artist-led curatorial programme, where selected artists present online work and invite their peers to create a succession of content around the yearly theme for a period of two weeks. This strand of AOS aims to create networks between continents of digital artists as the current exhibiting artist is then asked to invite the next artist to participate in the project, keeping the chain going. The digital collage created through the ongoing series will become automatic, exploring various ideas as it develops, and aims to form a conversation between peer groups and acts as a stage for presenting new work by emerging artists.