arebyte Plug-in - The Wrong Biennale 2021/22

For the 5th edition of The Wrong, arebyte presents a new way to experience the exhibitions of the digital art biennale as a series of windows pop-up, via a browser plugin.
Over the course of three months, the plugin offers a progressive way for traversing the magnitude and unique breadth of content featured in the biennale.
Each week, a curator from a Pavilion (online exhibition) or an Embassy (physical show) is selected by the wrong and arebyte to present their exhibition on the plugin.
The weekly new exhibition is brought directly to the viewer's screen, displayed as pop-up windows disseminated over the duration of a week, providing an artistic 'stopping cue' from relentless scrolling, email notifications and other computer-centered work.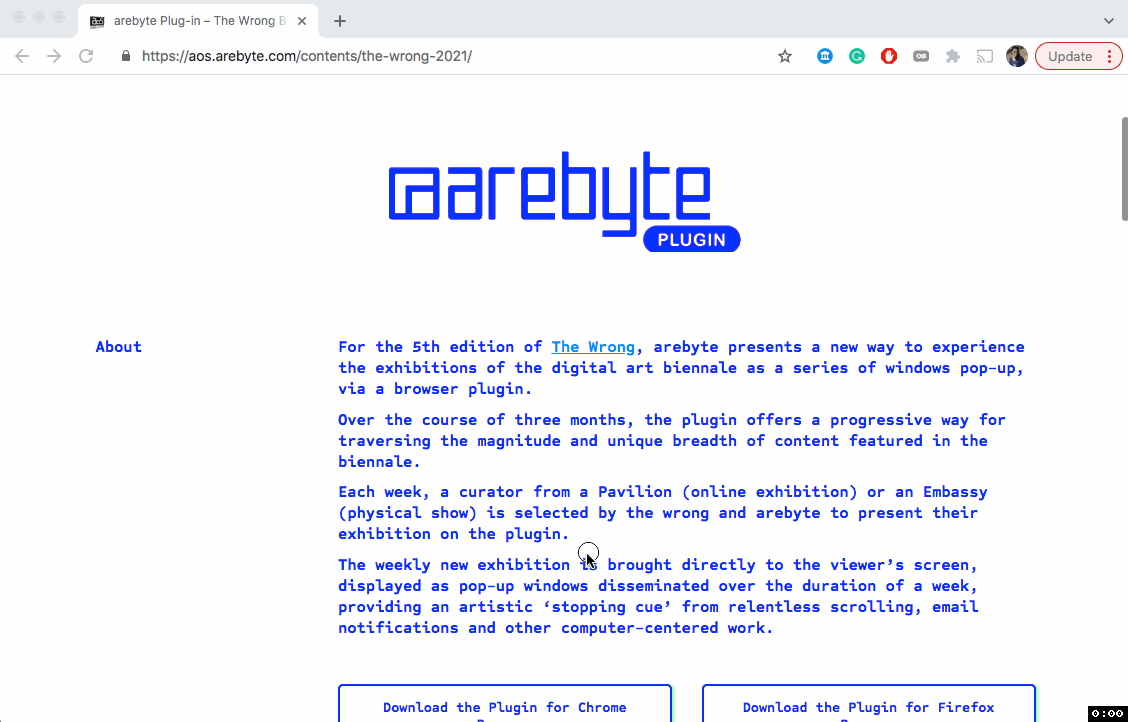 Powered by arebyte, 2021
Design and Development – Rob Prouse & Tom Merrell
All rights reserved – arebyte 2021
The plugin was initially developed for Real-Time Constraints, a group exhibition as part of arebyte on Screen programme 2020.
27th November – 4th Decemeber 2021
Kawaii Agency
Curated by:
Bart Seng Wen Long and Juliusz Grabinski
Kawaii Agency is a digital exhibition that centres around the manifold ideas of cuteness found thriving within contemporary culture. The show brings together brand new projects by fourteen emerging artists, exploring what cuteness, as an aesthetic or a thematic concern or an existential condition, might mean to them.
Artists include Misha Notley, Salome Czapiewski, Aaliyah Jackson, Vince Ibay, Megumi Ohata, Joseph Losper, Peggy Peiting Huang, Jody Evans, Maddy Plimmer, Jan Berger, Shane Sutherland, Anna Komitska, Juliusz Grabianski and Bart Seng Wen Long.
< Click arrows to view archived project images >